Giving Grief A Voice:
returning to the vibration of wholeness
A program designed for Life after Loss
Claim your seat here
Warm greetings kind soul….
Have you

experienced a major loss

?
Have you been

looking for meaning

and coming up empty?
Retreating in

isolation or self-defeating habits

and patterns for comfort?
Are you ready to 

create a path forward that honors your loved one

?
If so, I'm glad you're here….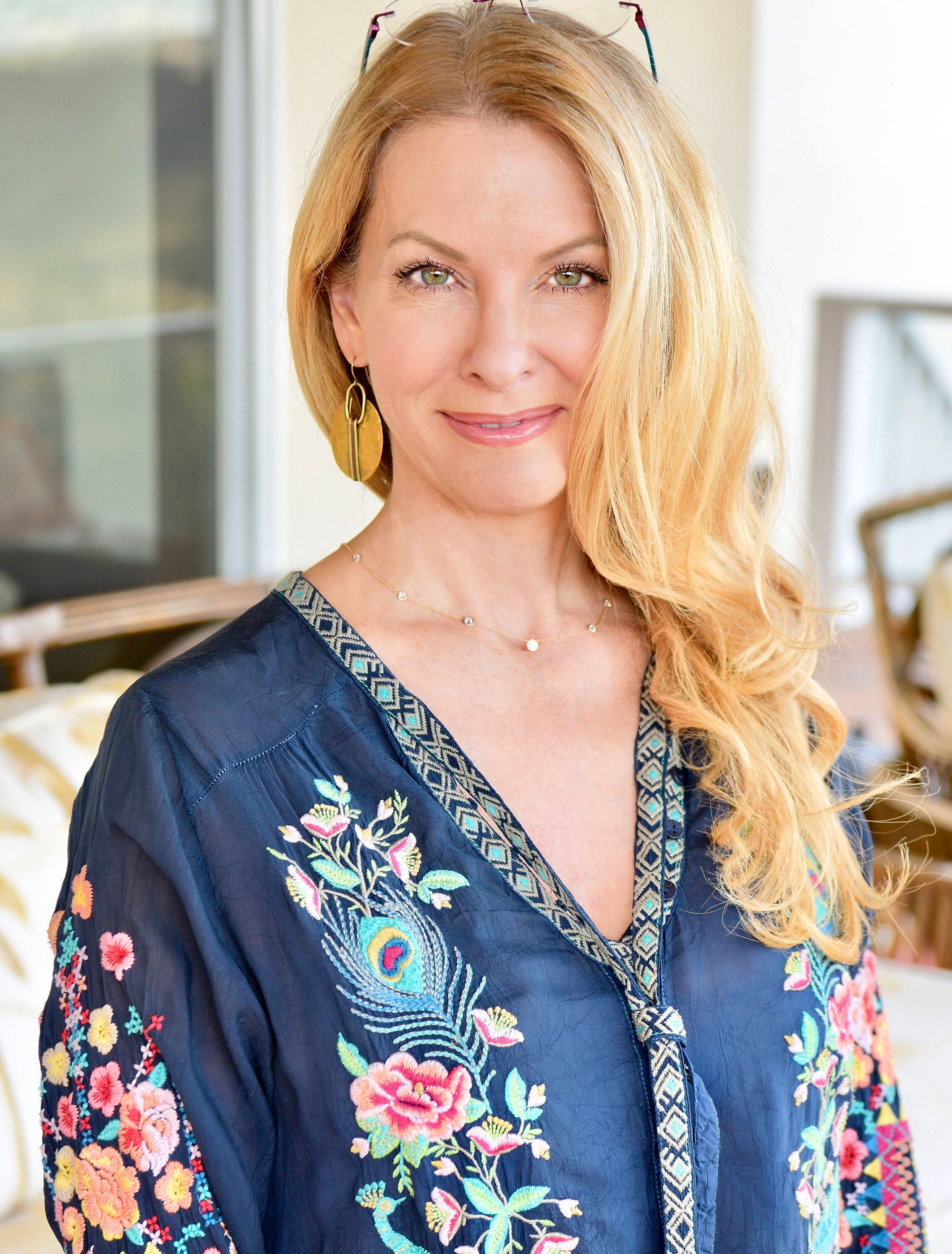 I've been where you are. Changed…against my own will… left between what was and what will be. Navigating the undercurrent and the forward movement of life on this side…. 
In January of 2020, I lost my most truly cherished beloved…. the father of my children… our hero in every way. I could not imagine my way into a future without him. How could I lead our boys, care for his mother…when my heart was shattered? When I could barely face each morning? Yes, my friend, I know what you are up against. 
I invite you into an intimate setting where we will travel this delicate road together. Where we will dream and LIVE into the next phase of our life journey. Welcome to Fully Alive After Loss.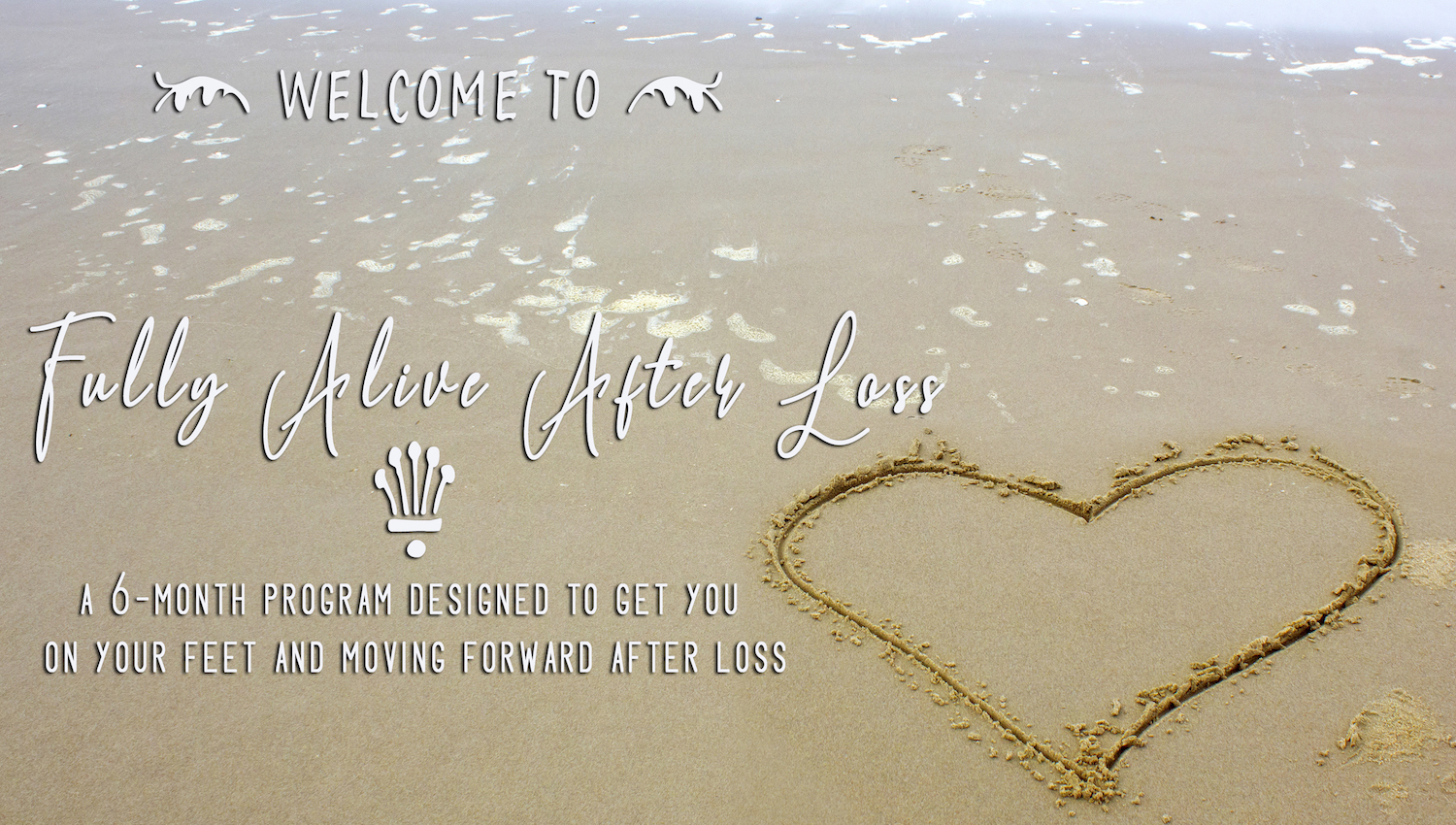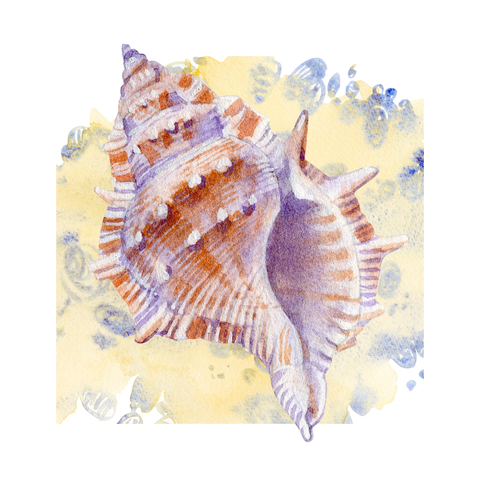 This program is for you if:
You are ready to take your

first purposeful, intentional steps

into life without your loved one
You are ready to shape your future from the legacy of the love you lost
You are ready to start channeling the strength you know you need to meet life anew
You are ready to learn that you are still whole in spite of the hole in your heart
Fully Alive After Loss
is for the person who is ready to learn to balance two worlds: loss and living. You are ready to begin the task of integration and moving forward in ways that feel do-able, validating, and in alignment with where you are.
All of this happening in a sacred container with others who are in exactly the same moment in their lives. Created to support you, this container will allow you to go deep in a sacred environment. Checking in and assessing with care and discernment, you will clarify your next practical steps into the future that is waiting for you.
12 x 2hr live group sessions over 6 months

Homework assignments designed to support you moving forward between classes

Unlimited Group Support

Divinely connected community
Investment: 
Payments are available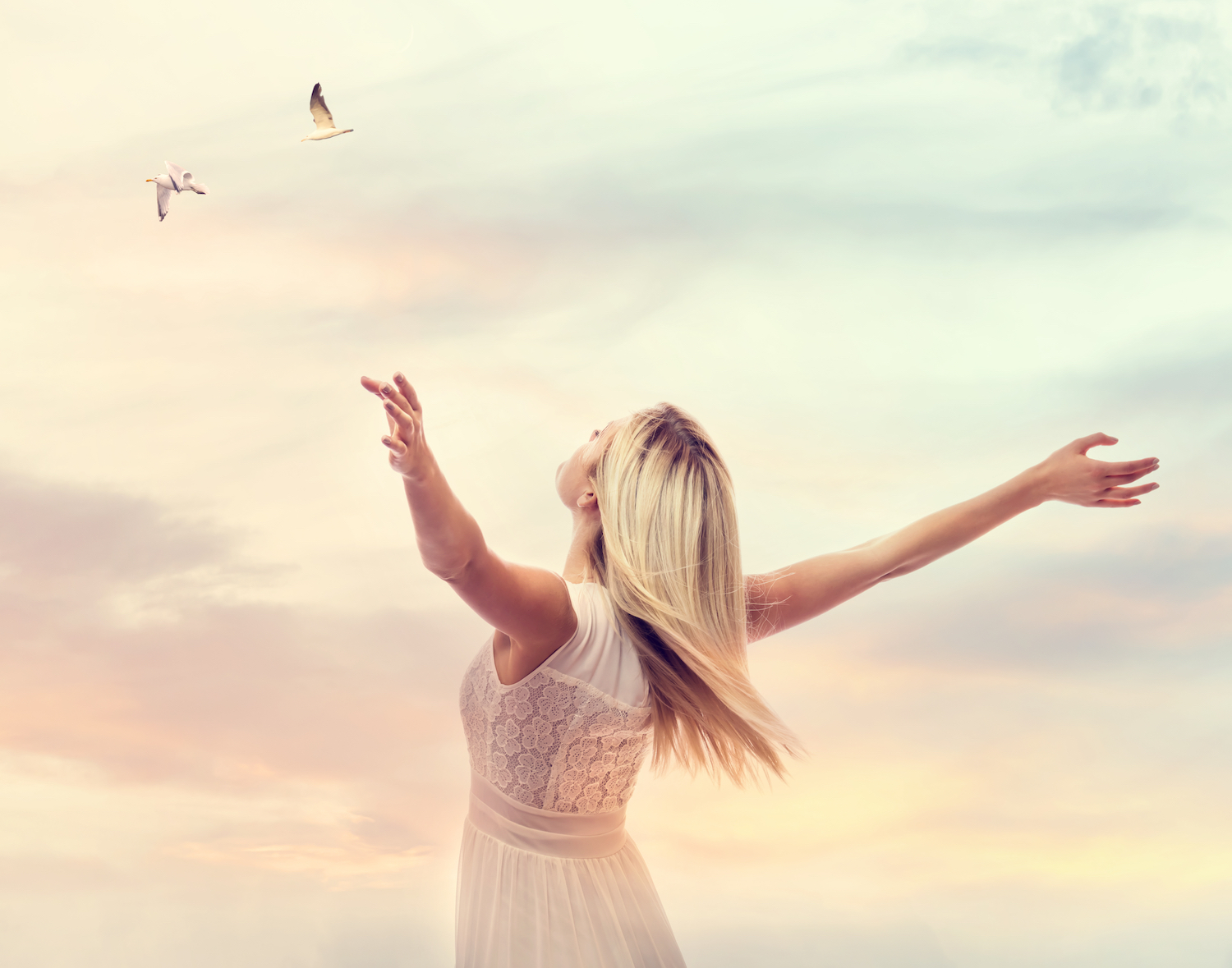 This program includes:
2 Live Group Sessions per month  We will meet two times a month for 2hrs each via Zoom. We will start with a collective energy balancing/harmonizing with crystal bowls that balance on a cellular level, then 

engage in experiential learning exercises moving you forward at the pace you set for yourself. I will offer live coaching for anyone who would like it as time allows in these calls. Plus, Q & A time and setting up aligned actions to keep momentum outside of your group coaching session.

Unlimited Support via Slack

 

This is a free app where you gain unlimited support from me to stay in alignment with your goals, receive support from other like-minded souls, and safe place to share your wins so we can celebrate you! This is especially

helpful durin

g integration week where you will have a week off after every session to implement your learnings and any questions arise.



Lifetime Access Lifetime access to session recordings and supporting materials so you can review our mind shifting lessons, relive and open up to your insights, and reuse the tools for your next level steps forward.
Private Coaching Sessions If you feel one-on-one time would be important for you, then you're going to want to become a 

VIP Soul Match

! This includes an additional monthly private session with me to explore your unique blocks and needs on a deeper level to accelerate towards your goals (details below)
The Best Part is you join a community of souls who are exactly where you are, finding their footing. It is said that we are the average of the 5 people we spend the most time with. By aligning with souls ready to move forward, you are sealing the deal – and exponentially increasing the likelihood of your success!
VIP Soul Match upgrade
Everything in the group coaching program

6 private coaching calls (60 mins each)

1 extended private coaching session for energetic balancing (30 mins)
LIMITED VIP SPOTS AVAILABLE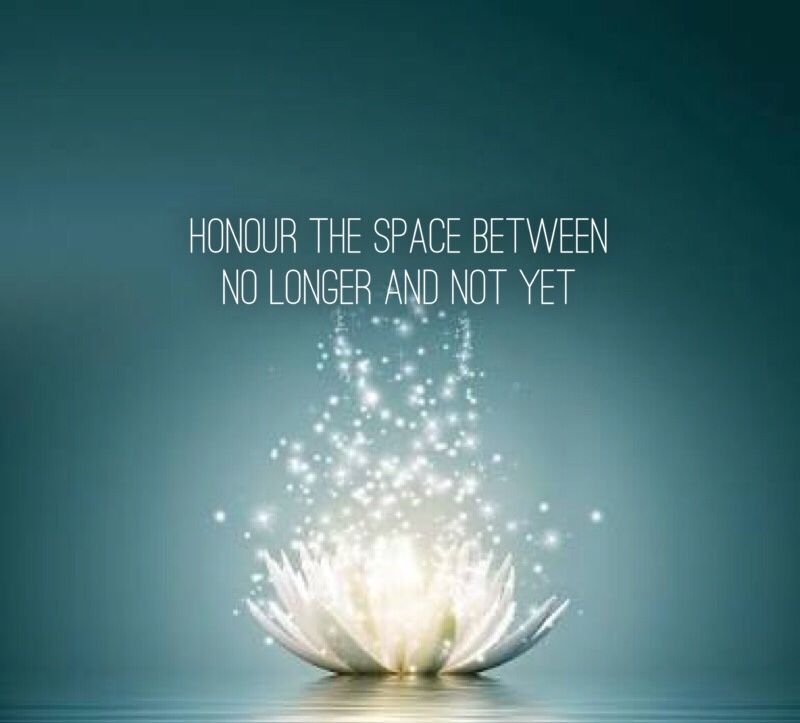 This 6-month group coaching program is designed to support you:
Leaning into curiosity

to learn about the new world you are in

Heal and live as your whole and integrated Self, creating a life from the Truth of your lived experience
Identify negative patterns that may be running in the background, blocking forward movement 
Learn a proven process to begin again after loss
Create your present and future from a place of honoring the one you have lost 
Integrate your loss in a way that informs your future 
Learn to work with your mind so you can create a life of wholeness in the wake of feeling broken
Experience a "full immersion energy alignment" with your vision of your highest and best in clear focus!
Learn to navigate from your highest version of YOU, as your loved one would want for you
Learn practical grounding tools so that you can meet the inevitable obstacles on the road of recovery
Tap into timeless tools to carry with you beyond this program that will support you onward
Discover your unique manifesting code so you can continue consciously moving forward with intention
Experience deep satisfaction, fulfillment, and true freedom
Turn your pain into purpose as you begin to imagine your future that honors your loved one
When you do the inner work, the results and transformations will be deeper, more meaningful relationships, exciting new opportunities, and true fulfillment! 
One-of-a-kind group for you
Every session a unique blend, with the constancy of:
Deep & Transformational Processes 
This program is best for those who feel they are ready to start making forward movement after a grievous loss. You will have already been in private or group therapy in the initial days, weeks, months, or in some cases, years following your loss.  In this intimate group container, you will receive a deep level of coaching that not only acknowledges the unique blocks & limitations of grief and loss,  but also provides an anchor on an energetic and spiritual level so that you can begin to feel grounded again. When we experience the searing pain of loss, we really can feel that we have come untethered to the physical world.  This program is designed to support you in reconnecting to your Fully Alive self. We will work with all aspects of living, with special attention to getting emotionally and spiritually grounded in the present. This group is an invitation to go bravely into the deep, acquire practical new skills, experience deep healing, and come Fully Alive in the now with real inner and outer results.
Exponential Growth  For every session that you show up to with your heart, mind, and spirit open to new possibilities, that openness will be filled with powerful insights & breakthroughs, promoting growth that continues increasing. In addition, you will get to put your breakthroughs and insights into practice in session with hands-on exercises & in-session support from me. And, to support your forward movement, you will also get support outside of sessions so that you can continue with confidence, feel inspired, and on track toward what you say you want. 
Sustainable Results & Tools  Although no program can guarantee results, I can guarantee you that if you show up with a completely open mind and heart and do the work, you will walk away with nothing less than a transformative experience. In addition to this life-changing experience, you will be equipped with timeless tools that you can use anytime to continue creating on the next evolution of your journey.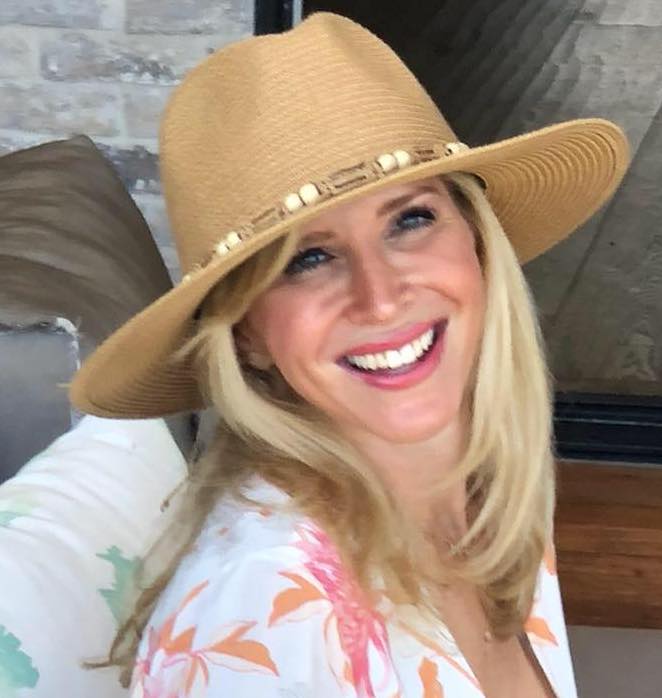 "Working with Kimberly has been life-changing. I have been to many different types of self help people, seminars, and therapists. It wasn't until I worked with Kimberly that I was able to make changes in my life with the tools she gave me. She has a way of working with me where I finally got it and was able to make life-long changes to a happier, more fulfilling life. Kimberly has a way of focusing and organizing what you'd like to accomplish. I highly recommended her to anyone who is seeking more clarity, meaning, purpose, and happiness."
                                       ~ Tricia S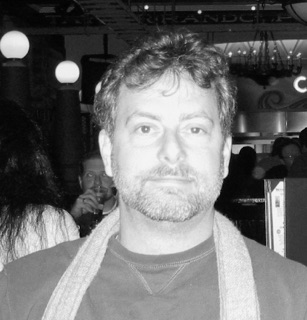 "Working with Kimberly was a very important development in my personal growth. I've been through therapy and have had decades of spiritual practice, but Ms. Haynes' approach has been unique in the sense that it brought together every vague realization I've ever had into a succinct and direct 'aha' moment. Actually many of those arose in the work I've done with her. Concrete solutions that feel organic. I'm already seeing results in my interactions with loved ones and business relationships.
David G
Artist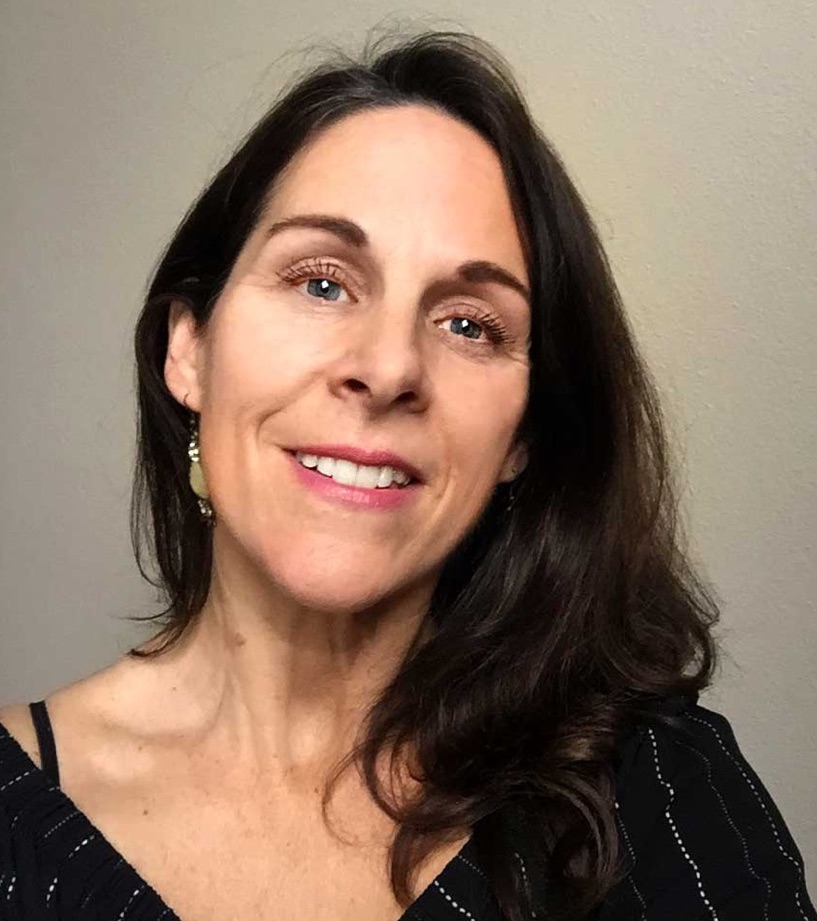 "I recently worked with Kimberly and had a wonderful experience. Her calm, thoughtful, and grounded coaching demeanor supported me greatly in working through several limiting issues. Kimberly is professional and brought integrity and compassion to all our sessions. I have made great progress since working with her and highly recommend her!"
Debra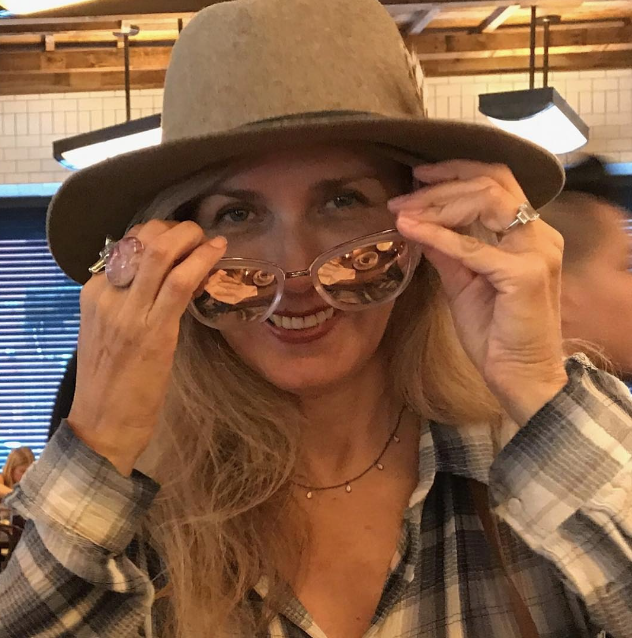 Working with Kimberly gave me powerful tools to effectively meet my challenges, and uncover my blocks. She provided such a warm and safe container to approach my life challenges. I experienced huge shifts in my consciousness and leave my sessions with a sense of peace. I am continuing my work with Kimberly and highly recommend her.
Caroline
Professional Caregiver
This program comes with my deep commitment to your most empowered and elevated version of YOU.
I know what it's like to face deep, personal trauma. I have cared for my brother, my mother, and my husband through the narrow bridge of hospice care to the door of eternity.
My healing journey, education, and professional practice have all sharpened my ability to be a compassionate, empathetic champion of all of my clients, no matter their personal or professional challenges.
In this very special group, we will gather ourselves to reinvigorate a sense of meaning and purpose after the trauma of loss.
I will meet you exactly where you are and create an environment for you to safely get to where you want to be.
Great change requires support. If you are ready to do this courageous work, so am I.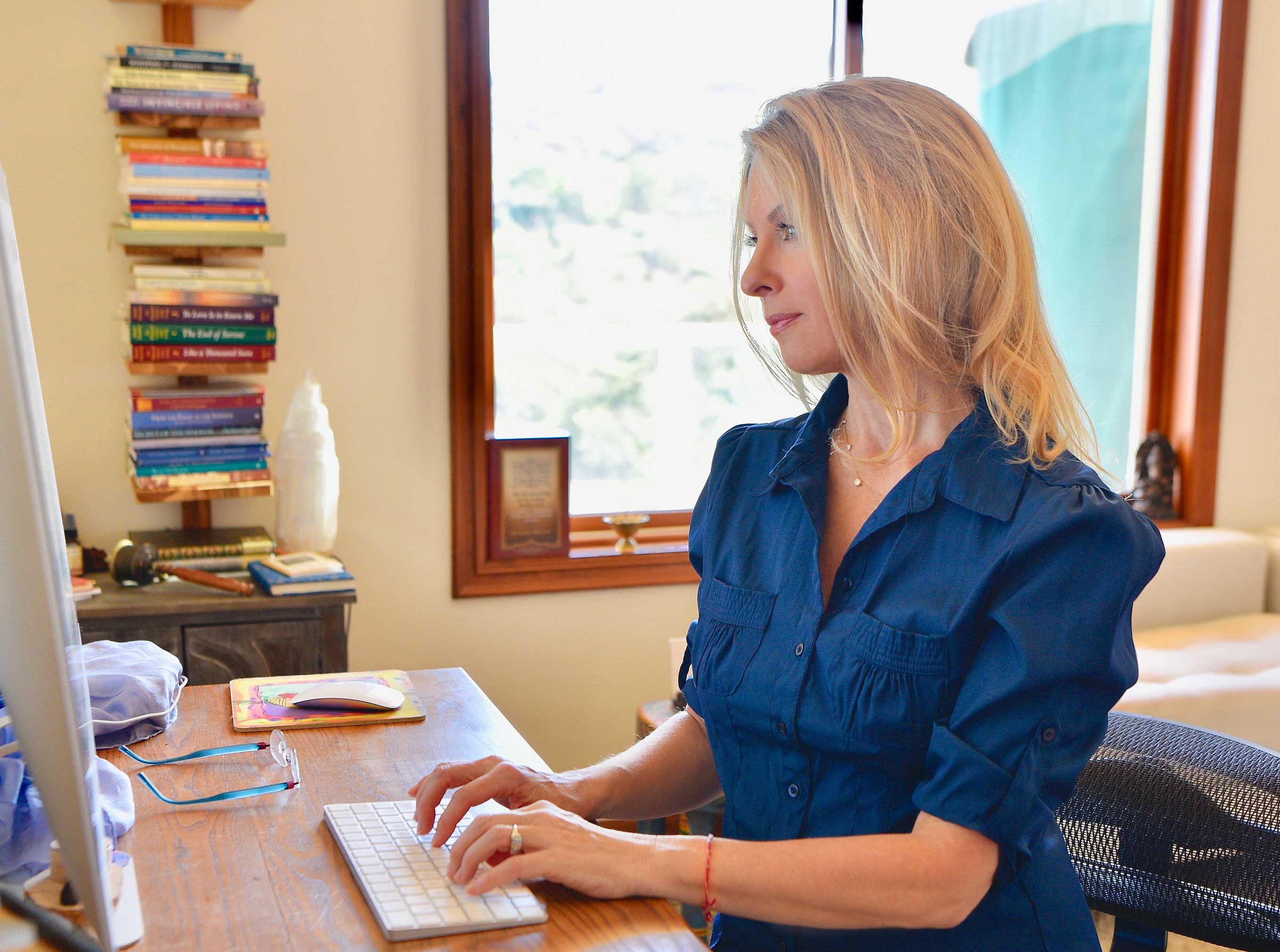 A little more about Kimberly
Kimberly Haynes is a Certified Life, Relationship, and Spiritual Coach with a true gift. She is also accredited with the International Coaching Federation.
Serving as clergy in a Los Angeles synagogue, she is a cantorial soloist, speaker, performer, and entrepreneur.
Kimberly creates a sacred healing space that gives people the safety to uncover profound insights & truths that sets them on a path to freedom. She is known for her warmth, presence, and intuitive coaching style.
A long time practitioner of mindfulness, meditation, and body awareness practices, Kimberly is an exceptionally qualified guide to anyone seeking to reconnect with their life purpose. Through her insight and ability to ask powerful questions – coupled with her extensive training and experience – she helps people meet their lives with greater mastery.
Kimberly's background includes
Certified Life & Spiritual Coach, CSC, CLC,

ACC

Business Degree, University of Phoenix, 2009
18 years Cantorial service & applied Jewish studies (Ahavat Torah LA)
Founder of Yoga of Voice & Vibration
CEO – MusicMedicineWoman
10 years Sound Healing
Deep, continuous study and practice of yogic science
Who Is This Program For?
This group program is perfect for the courageous soul who has been through the fire of loss and is feeling ready to take their first intentional steps into life without your loved one. You may have already spent some time in group or private grief therapy where you have been able to deeply process.  The ideal candidate for this program is ready to learn how to integrate all of it into who he/she is now becoming.
Apply right away as space is limited in order to maintain a close, intimate container. 
How does the application process work?
I will personally review each application and intuitively & logically choose who would be the best fit for our group program. You will receive a personal email notifying you if you have been accepted at which point you will have 72 hours to accept and make your first payment to secure your spot or your spot will be offered to the next person on the list.
If it's not the right time for you to join this program, I will recommend other coaches, programs, or steps aligned to where you are.
If you need more time to decide if Fully Alive After Loss is right for you, you are welcome to book a Discovery Session. The fee from that session can be applied to this group program should we both feel it's the right fit to proceed.
How often do we meet?
2 times a month for 2 hours per session for 6 consecutive months.
The first cohort begins on June 1st at 5:30 pm EST and meets bi-weekly until December 1st 2021.
Limited spots open per group.
The next cohort is undetermined and this introductory price won't be offered again so take advantage of this opportunity today.
Where do we meet?
All sessions will take place virtually via Zoom and then recordings will be uploaded to your own personal secure portal for your future review.
What if I don't feel comfortable sharing personal things in a group setting?
In this container and as a Certified and Accredited Spiritual Life & Relationship Coach, part of my code of ethics to create a safe, sacred, and confidential space. You are welcome to share as much or as little as you want and welcome to volunteer or opt-out of in-group coaching at any time. In my experience, the more open and willing you are, the more you healing and support you will receive. We honor whatever you feel is best for you.
How much personal support will I receive
Throughout this program, you will have the opportunity to receive hot-seat style coaching during our group calls as well as support outside of the session through a free app called, Slack. Here you can ask questions and receive a personal response from me.  If you enroll as a VIP SOUL MATCH, you will receive an additional 60-minute private coaching call each month.
What if I miss a session?
It is encouraged that you attend all sessions live to get the most out of the program. However, we understand unforeseeable circumstances can arise so for this purpose all sessions will be recorded and uploaded to your personal and secure online portal for your review so that you don't miss a thing.
Will this process work?
No program can guarantee results as we cannot control participants' level of effort, commitment, and readiness for change, however, this process offers powerful tools and guidance that are proven to create life-changing results for a person who has done some groundwork and ready and willing to do the inner work to see results.
The soul-match client for this program is hardworking, dedicated to themselves and their goals, willing to make a change, willing to do something new and knows there is something more, ready to explore their obstacles in a safe container, transmute fear, pain, and insecurity so that they can rise to embody the highest version of themselves and fully live the life they are meant to live. They understand that next-level results require next-level commitment, focus, and action; and they are ready and prepared financially, mentally, emotionally, and spiritually for this life-changing ride.
How does payment work?
If you are accepted into the program, you will receive an acceptance letter with a secure PayPal payment link. You can choose to pay with any form of payment.
To confirm your spot in the program, full or deposit payment must be made.
If opting in for the payment plan, the deposit is charged at the time of purchase, and then the 6-month payment plan starts 4 weeks from the deposit payment. All payments are scheduled 4 weeks apart.
There are no refunds or transfers for deposits, partial or full payments.
What is the refund policy?
There are absolutely no refunds or transfers for the group or group + 1:1 coaching programs.
If for whatever reason you are not satisfied, please reach out to Minerva directly to resolve any concerns or issues.